---
ENSCI-Les Ateliers occupies 48 Rue Saint-Sabin near the Bastille district of central Paris. "Until 1979, this address was home to 9,000 m2 of workshops and storerooms on five floors around a central courtyard that had been constructed in 1922 to house the technical facilities of the famous Dutch-born interior designer Jean-Henri Jansen, who had a furniture shop on the Rue Royale. This 'artisan village' employed around 500 craftsmen, cabinetmakers, upholsterers, locksmiths, gilders, decorative plasterers, sculptors and painters". The building was eventually acquired by the French Ministry of Culture, which restored and converted it to house the design school.
---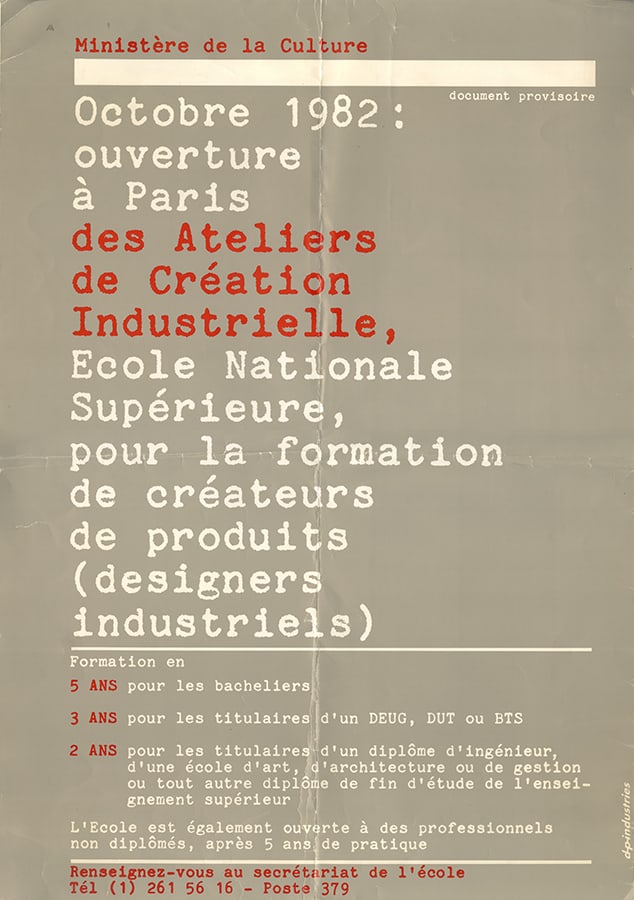 ---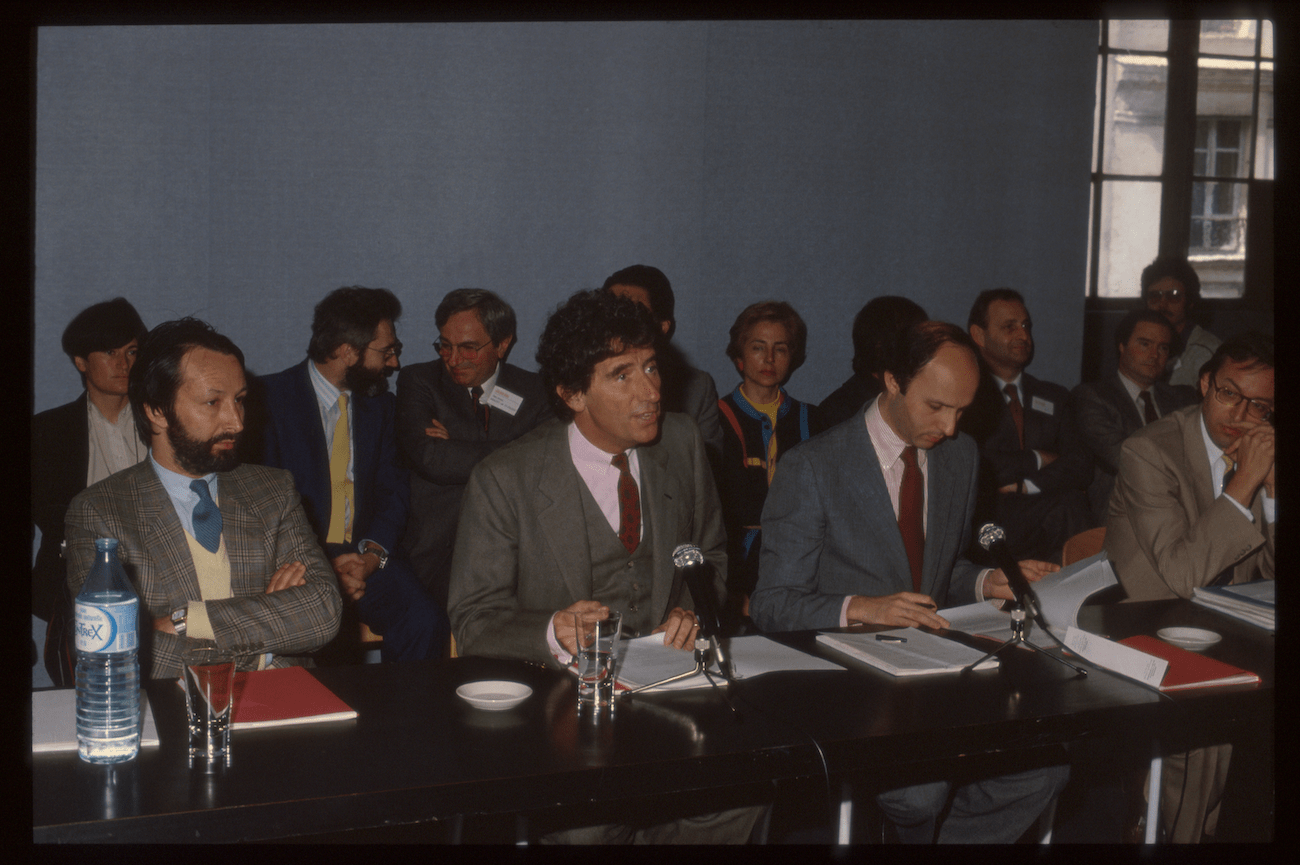 ---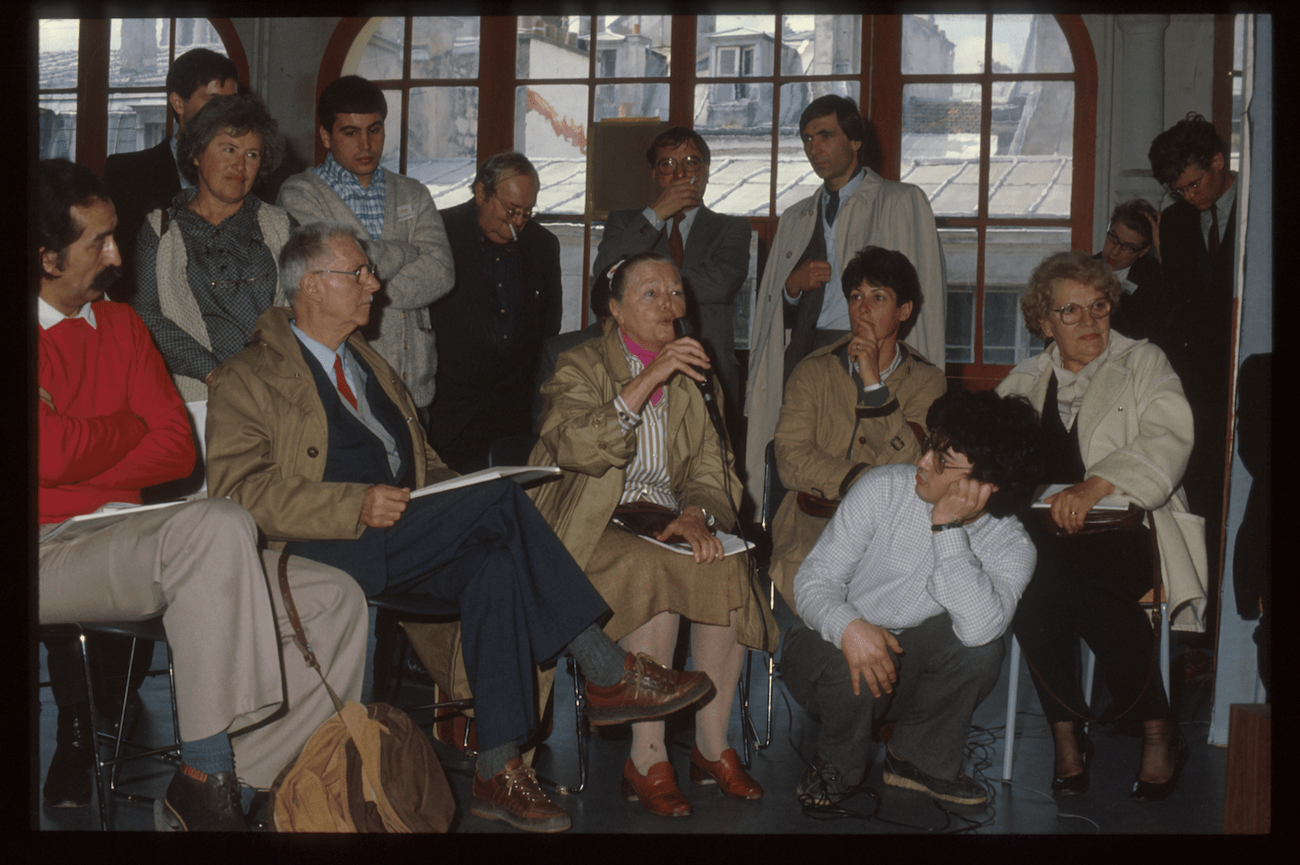 ---
---
It was in 1981 that the future École Nationale Supérieure de Création Industrielle (ENSCI-Les Ateliers) came into being thanks to the then French President François Mitterrand, Culture Minister Jack Lang, Claude Mollard, the future visual arts adviser to the government, and Patrick Bouchain, the architect commissioned to write a report on the teaching of design. In 1982, Jean-Louis Monzat de Saint-Julien, who had worked with Patrick Bouchain on designing the structure of the design school, became its first director. ENSCI-Les Ateliers was then the joint responsibility of the Ministry of Industry, Research and Technology and the Ministry of Culture.
Its two sponsors were Jean Prouvé and Charlotte Perriand.
---
But it was not until 1983 that François Mitterrand officially announced the creation of ENSCI-Les Ateliers during his closing speech at the 'Creativity and Development" symposium in the main lecture theatre of the Sorbonne on 13 February. In 1984, Anne-Marie Boutin was appointed Director and Chair of the Board of Directors. In 1985, ENSCI-Les Ateliers was granted EPIC (Public Industrial and Commercial Establishment) status. A succession of directors followed: Evert Endt (1992), Françoise Jollant Kneebone (1998), Jean-Paul Robert (2001), Emmanuel Fessy (2004), Alain Cadix (2007), Bernard Kahane (2013), Yann Fabès (2016) and Frédérique Pain (2020).